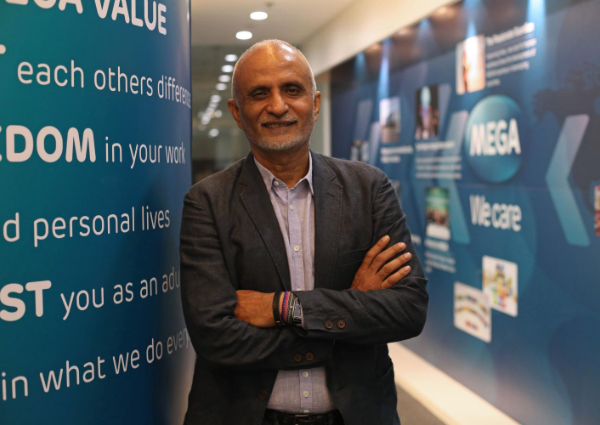 Team player
Wednesday, Jul 29, 2020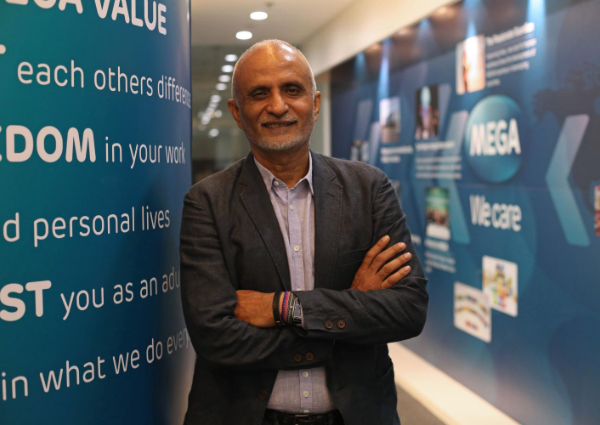 Team player
Wednesday, Jul 29, 2020
Anyone who has ever exchanged business cards with Vivek Dhawan will be puzzled by one of the positions he holds at Mega LifeSciences Plc. Beside the word CEO is the title of "Chief Coach". The latter is equally important to the people who work with Mr Dhawan at the company he has led since 1986.
"Where does the word coach come from? Football?" I ask him. "No," he answers, though he is a big fan. It is team sport in general that inspires him. "I watch football. I love to watch Arsenal. I love to watch Barcelona. I love to see the way they play. From the movement of the ball, you can say everybody is involved in the game. There's no one hero."
Making sure everyone is involved is the way Mr Dhawan runs the business of Mega LifeSciences, the company that has transformed itself from a contract manufacturer of medicine capsules. Over the past three decades it has evolved into a major producer and exporter of branded pharmaceuticals and health-supplement products, with 6,600 employees and a presence in 33 countries.
Listed on the Stock Exchange of Thailand since November 2013, Mega last year earned 1.14 billion baht in net profit, down 5% from the year before, on revenue of 11.13 billion, a gain of 9.3% from 2018.
"I'm not a hero in this company," Mr Dhawan tells Asia Focus. "In a team, everybody is good. A good company can only succeed when we have people who are better than me. … You need good people around who can actually pass the ball to somebody else, not you. If you do that then you are selfish. You can't win.
"Creating a good team is what I'm thinking about; that's where the word coach came from. You found that at Barcelona when Pep (Guardiola) was there. You found that at Arsenal with what (former manager) Arsène Wenger used to do," he says.
"But there are different models. I'm not saying the other model is wrong but our model is that as a team, we win together. Everybody is important, the goalkeeper or the front guys, not that there is one hero."
At Mega, which includes the fast-growing Maxcare logistics business serving Vietnam, Cambodia and Myanmar, Mr Dhawan's goal if for everybody to enjoy coming to work.
"Work should not be painful," he says. "The first thing I would say is that if I can enjoy it, everybody should enjoy work. They are smiling. If they are having fun then they give their best. Actually they are owners (of the company) so we make them feel they are the real owners, make them really feel good and they respond with honesty. (When we fight), we fight for the right reason. We don't fight for politics."
The company has four levels of staff — coaches, partners, associates and colleagues. This corporate culture, he says, was established 25 years ago.
"Most of these people have worked with me for a long time and they know what we have been through," he explains. "We have decided that as a company, rather than having a director or vice-president, now we have coaches, partners, associates and colleagues. People can change from colleagues to associates, to partners and then they grow up to become coaches.
"What is my biggest job? It's like playing (football). If we look at Arsenal, Manchester United or Barcelona, the coach is doing what? They let people play. Pep could not play for (Lionel) Messi. … Messi is one great player but you still need other players. He can't play alone.
"I'm a coach. What does the coach do? They help people play as teams. Twenty-five years ago, I said we should have a model that says your job is to help other people to succeed, not me. If they succeed, I will succeed anyway, right?"
He offers an example of how the team should work. "I have a person who is very good in Thailand, I have a person who is good in manufacturing, regulatory affairs, people who are good in digital, and some who are very good in finance. All of them are good but they have to work together; then you can create a magical outcome.
"My job is to make sure that all of them work and play together for one reason because they love Mega. … That's why I think my job is more like a coach, less like a CEO," he says.
"I cannot tell them … do it now, shut up. That model doesn't work anymore. That's why I thought the coaching model is a better way. If they believe in the culture, then they will do the right thing. So creating that belief system is very important."
The corporate culture was clearly illustrated when the Covid-19 pandemic started to seriously affect businesses all over the world including Mega. "When Covid happened, our factories were working every day. Our team in Thailand, with 2,000 people, had to come to work. They go to pharmacies, to hospitals, to deliver products. They do this all the time."
"Even with Covid, nobody says, 'I'm going home'. It's people's passion. They love what they're doing. They do wonderful things. We're not in a hurry to create sales, we are first creating belief. If there is belief, they will love what they do."
STRATEGIC SHIFT
Born in India, Mr Dhawan earned his MBA in the United States and joined Medicap, a producer of soft pharmaceutical capsules in Thailand, in 1986. The company, with a plant in Bang Pu, Samut Prakan, later became Mega LifeSciences after it began to branch out into own-brand products in the mid-1990s.
In 1992, Medicap became the only Thai company with approval from the Australian Therapeutic Goods Administration, the country's food and drug regulator. Since then Mr Dhawan has built a large, publicly listed company that is the number one supplement maker in both Thailand and Myanmar.
"This business was started in 1984-85 by two partners — a Thai group and an Indian partner who had technology. It was called Medicap. I came in 1986 after finishing my MBA. My father is an engineer who was based in Thailand. We joined them with some ownership and to manage the business," he recalls.
"At that time, it was 10 people and maybe US$100,000 (2-3 million baht) in turnover, two machines, losing money. That's where my journey started, as an engineer. My life began there from slowly, little by little growing and building it. We learned and we grew."
From 1992-94, the company had to decide whether to continue being a contract manufacturer or pursue building its own brand. It chose the latter path.
"In the following 5-10 years, we did less and less OEM (original equipment manufacturing) and more and more of our own brands. We expanded to more and more markets," says Mr Dhawan. "Then we started distribution. We went to Vietnam in 1993, then we opened Cambodia."
Australia was the first foreign country where Mega set up manufacturing, on a site about 80 kilometres outside of Melbourne. With an investment of around 450-500 million baht, the company has also invested in a new plant in Bang Pu.
In February this year, Mega acquired a plant in Indonesia, outside Jakarta, as its third manufacturing facility. In Myanmar, it has a joint venture with an Indian partner to make new drugs. The project, however, is under review as Myanmar passed a new patent law last year.
"That plant is designed to produce new molecules. There have been some changes with medicine patents. And because of Covid, we cannot have meetings so we cannot get together with the team and can't go to Myanmar but the land is there," says Mr Dhawan.
Mega's Maxcare division, however, has a major presence in Myanmar with warehouses covering 50,000 square metres in Yangon. Serving both pharmaceutical and fast-moving consumer goods, Maxcare represents companies including L'Oréal and Osotspa, as well as other food and cosmetics makers with coverage of 35,000 sales outlets in the country. "In total, we are in six cities and cover 60% of the country directly," he says.
Beyond Asia, Mega has developed a presence with its own brand in sub-Saharan Africa with offices in Nigeria, Ghana, Kenya, Tanzania, Uganda and Ethiopia. Its other markets include Ukraine and Uzbekistan, and some parts of Latin America such as Peru and Colombia.
"We've invested in the countries where we are because we want to make our brand strong," he says. "Wherever we are, we have a reasonably good presence. We have good brands. If you go to that market, you'll find Mega WeCare in most of the markets.
"If you are in Myanmar, you will see Mega brands everywhere, so we are building long-term brands in the country. Brands that are part of your life, brands that consumers actually love."
Nowadays, 95% of Mega's manufacturing is for its own brands, thanks to the strategic shift it began pursuing more than 25 years ago. "It was our strategic shift. We shifted our business model to marketing our own brands."
And while Covid has hit every business badly, Mr Dhawan says Mega has been quite resilient in the face of the ongoing crisis given its low debts, diversified markets and credible products. "Mega went through a lot of these difficult times [in 1997-98] when we borrowed some money in dollars and it became 56 baht to the dollar, but this is a part of life, right?
"We lived through it and we learned. It taught us. Every time you have something, you get to learn and you get better. But by building a resilient company, when you do the right thing in the same business again and again, you have a good chance of doing better. We get better by the day."
But the more challenging task is to create something that can live and grow beyond his era. "I have written down my company philosophy, which is to build a thinking organisation that we can change before being forced to change," he explains.
The key is to create a learning culture so that people in the company want to seek more knowledge. "We must start to question, to ask why. And when we ask why, we can make the right changes. Change before you are forced to, not when you have problems," he points out. "Today everybody can change but can we do it before it's too late?"
For example, Mega has been moving into digital marketing, and had already built a digital ecosystem before the pandemic happened. "How can you create something that is going to live on even when you are not here? It's an ecosystem where good people will come and new things will happen and carry on even after I'm gone. That's the biggest challenge for me these days."
LEISURE TIME
When he has free time, Mr Dhawan reads avidly. "There is a lot to read and I read everything. I read philosophy, for example, The Tibetan Book of Living and Dying by Sogyal Rinpoche. We say that people prepare in this life to leave but they never prepare to die. Imagine today is your last day in this world, what will you do? You will do things differently. You will do good everyday," he says.
"I also read a lot of philosophy, from Buddhism to Hinduism, and history."
To keep in touch with what is happening in the business world and gain new insights, he also reads the Harvard Business Review and magazines.
"At the moment I'm fascinated by behavioural science. I read a book called Nudge by Richard Thaler (and Cass Sunstein), about rationality in behaviour. We think people's behaviours are rational but in fact they're not. I'm reading a lot of studies by behavioural scientists now to get into human behaviours.
"Now that Covid has shaken the world, the way people behave in a time of pandemic and what kinds of responses they have in their behaviours, are interesting. For example, how do you spend your money during such a time?"
Another area he is attracted to is creativity. "I just heard about another interesting book called Creative Confidence by Tom and David Kelley. It's about how everybody has a chance to be creative. How can we help people to bring that out in them?"
Wellness is another interest, and a book entitled Undo It (by Dean Ornish and Anne Ornish) struck a chord. It proposes that you can "undo" your diseases if you make changes in your daily life.
As Mega's business is well diversified, Mr Dhawan has a lot of chances to travel, and that is another thing he is passionate about. "Every country is so beautiful. When I went to Vietnam 25 years ago, in Hanoi, there was a small shop and they make only one dish called cha ca. (noodles with fish) and it's 100 years old," he recalls.
In Bhutan, he remembers walking for five days on a winter trek from Thimphu to Paro. "Every day, I walked 10 kilometres and slept in a tent, freezing. But Bhutan is so beautiful."
He finds Italy lovely, particularly the countryside. In India, he rode the Maharajah Express for six days to see many cities. Business has also taken him to African nations such as Tanzania and Ethiopia. "In Ethiopia you eat corn on the street — they roast it for you over charcoal. I think every country got some magic in it.
"Beauty is everywhere. Stop measuring it. If you compare — this is better or I love this more than something else — that's a challenge. Beauty is what you enjoy when you are there. Wherever you are, that is beautiful."
His next trip is to Latin America, which offers a lot of ground to cover. "Everything in Latin America needs time. I want to travel around, have more time to do that. Today with work, I don't go (on holiday) for a month. I go for two weeks. I do two two-week holidays a year at least.
"I love history. I love walking around. I want to see and feel the cultures of other countries," he says with a smile. "I would love to go to all the old places where you can still feel the local energy, smell the food, enjoy the people walking around, the warmth of it. This is kind of thing I enjoy for my holidays."
Bangkok Post : https://www.bangkokpost.com/business/1958127/team-player
Explore Other Press Releases